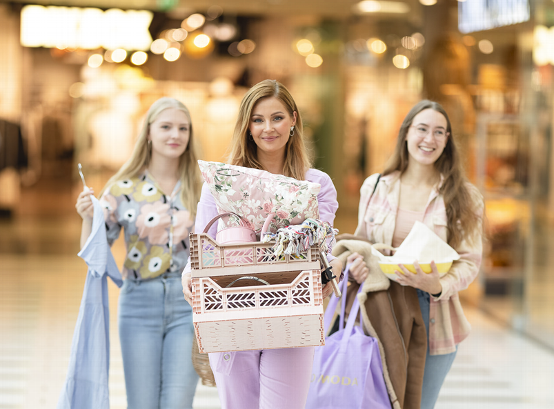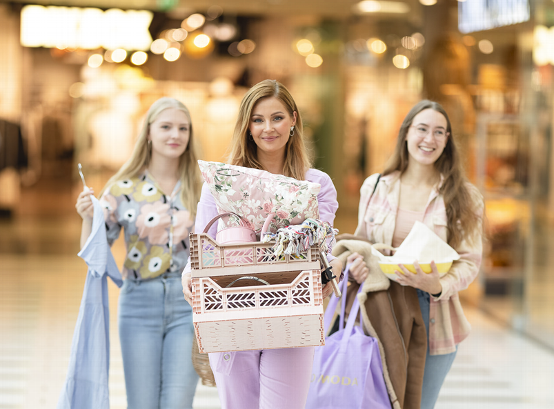 Store news from Forum: new stores, moves and extensions - check out our new stores here
Forum is constantly being renewed. DNA, Rituals, Gina Tricot, Momochi, Synsam Recycling Outlet... Read the latest news about our stores and come and see it on the spot!
Our offering has strengthened during 2022 with, among other things, Helsinki's first optician selling used and recycled frames and an amazing flagship store.

NEW RIGHT NOW
DNA opened a store on the 0th floor of Forum! DNA store is Finland's largest chain selling mobile phones, which offers a comprehensive and interesting selection of mobile phones, tablets and accessories from industry-leading manufacturers at competitive prices.
Rituals The opening of Rituals store was celebrated in Forum on September 15. Rituals is known for its experiential stores, where you can smell the products and set the mood.
Silmäasema Arvola, Helsinki now have it's own facilities for ophthalmologist examinations. Silmäasema Arvola renovated so that the store can serve customers even better, especially in ophthalmic services.
Gina Tricot moved and opened an amazing new concept store on the 2nd floor. The new store is exciting shopping experience, consisting of an inspirinh and trendy environment. The store is offering covers all of Gina Tricot's concepts, including the Young -yourh collection and Home -decor collection.
Synsam Recycling Outlet was opened in Forum on Friday March 18. Helsinkis firsy Synsam Recycling Outlet has the widest selection of recycled glasses, frames and sunglasses. The range consists of used frames in good condition and new products made from recycled material.
STORE NEWS 2021
Momochi serves delicious mochi donuts and mochi ice-creams, which are baked and served fresh on site. You can find the adorable pink café on the 1st floor, next to Simonkatu main doors.
Running Specialist by Intersport has opened. Interport has expanded into even larger spaces on the 0th floor. The new running-focused consept offers advanced products, technology and experts to help you get the most out of your running hobby and especially your running shoes. The extension also allows passage through the store between the 0th and 1st floors. The premises are located between the restaurant world and JYSK store.
My O My - Home interior design store has opened on the Marble Corridor. The store is full of colorful design and quality brand products.
Silmälasikeskus expanded into larger spaces.The renovated, larger store has now opened in its same familiar location with plenty of room to admire their newest frames.
Ônam has moved. The Vietnamese street food restaurant has opened a new restaurant for the 0th restaurant world. Welcome to enjoy!
Normal has opened in Forum! The inspiring Danish grocery chain has opened its first store in Helsinki on the 0th floor.
See more store details here.
Welcome to Forum!