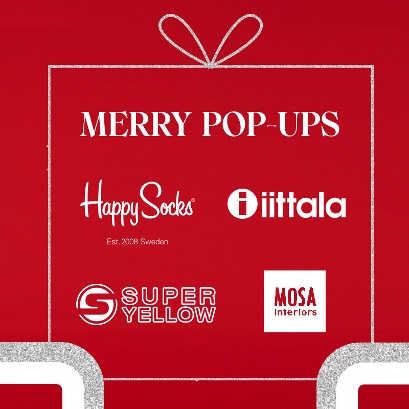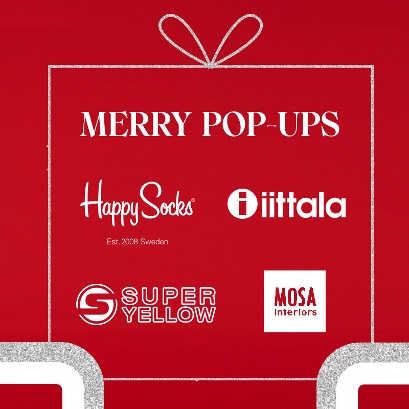 Store news from Forum: new stores, moves and extensions - check out our new stores here
Forum is constantly being renewed. Normal, Mosa Interiors, Lempi Lifestyle, Superyellow, Iittala Gift Shop, Happy Socks... Read the latest news about our stores and come and see it on the spot!
Our offering has strengthened during 2021 with, among other things, several domestic interior design stores, sports expertise and an international grocery chain. In addition, several familiar stores have expanded into larger premises or moved to a new location.
NEW RIGHT NOW
Happy Socks pop up complements Forum store offering with stunningly colorful store. In the store you will find different Christmas gifts that are suitable for everyone. Happy Socks is located on the 1st floor next to Juhlamaailma.
Iittala Gift Shop has opened on the 1st floor, right next to Arnolds café. The Christmas athmosphere of the store offeres inspiration and gift tips. Timeless Finnish classics, the most covetes novelties and the most amazing sets presented as ready made gift ideas. Welcome to fall in love!
Finlayson moved to the 2nd floor. Store is open on its new location from 30th of October.
Mosa Interiors strengthens Forum's interior design offering. Mosa Interiors is a bohemian personal interior design store with passion for an aesthetically beautiful living environment and a priority to serve in home decor. The store is located next to the Simonkatu entrance
Superyellow has arrived to Forum! Superyellow, which manufactures domestic merino wool hats, is inspired by Finland's changing climate and is suitable for every season. Quality products are 100% made in Finland. Superyellow is located next to H&M on the 1st floor.

Running Specialist by Intersport has opened. Interport has expanded into even larger spaces on the 0th floor. The new running-focused consept offers advanced products, technology and experts to help you get the most out of your running hobby and especially your running shoes. The extension also allows passage through the store between the 0th and 1st floors. The premises are located between the restaurant world and JYSK store.
Lempi Lifestyle interior design and lifestyle store has opened on the 2nd floor. A store with deliciously inspiring delights is located right next to Forum Info. Welcome to fall in love and discover your new interior design favorites.
STORE NEWS 2021
My O My - Home interior design store has opened on the Marble Corridor. The store is full of colorful design and quality brand products.
Silmälasikeskus expanded into larger spaces.The renovated, larger store has now opened in its same familiar location with plenty of room to admire their newest frames.
Ônam has moved. The Vietnamese street food restaurant has opened a new restaurant for the 0th restaurant world. Welcome to enjoy!
Normal has opened in Forum! The inspiring Danish grocery chain has opened its first store in Helsinki on the 0th floor.
Glitter has moved and opened a new concept store on the 2nd floor next to Bik Bok.
Moomin Shop has moved and opened a new kind of store on the 1st floor next to Björn Borg.
See more store details here.
Welcome to Forum!