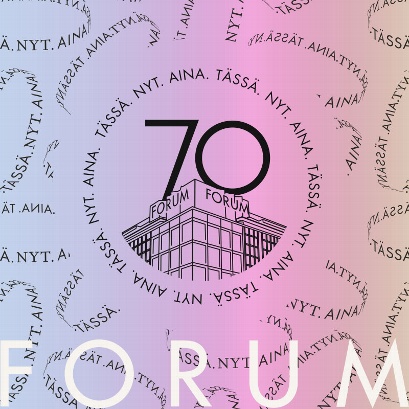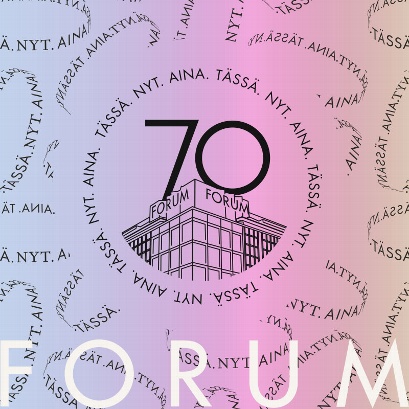 FORUM 70 YEARS, ALWAYS ON THE MOVE
70 year old Forum don't and won't stop. The downtown of Helsinki downtown is full of urban culture, music, movement and shops. Come and join the celebration!
In 1952 the Helsinki Olympics were celebrated and the growing center of Helsinki was given a new era in the Kukko block by the Forum shopping centre.

The shopping centre got its current appearance in 1985, when an iconic landmark, the Forum glass corner, rose at the intersection of Mannerheimintie and Simonkatu.
In 2012–2015 Forum once again created its own skin and grew into an even more diverse shopping centre. Behind that glass corner is always and now more than ever!

The jubilee year of Forum begun spectacularly, fueled by a work of light art by LUX Helsinki. There will be a lot of experiential programs, events and interesting collaborations.
Welcome to admire, for example, the Forum's digital anniversary exhibition and enjoy the festivals. And of course we pamper our dear customers with a birthday party and with different tempting offers.
Follow us on social media to stay up-to-date on upcoming events and dates!